Obligatory 'Twilight' post
It has recently come to my attention that I am the night crew's resident "Twilight" expert.
It's a horrifying concept, really. I would never call myself a "Twi-hard", or rabid fan of Stephenie Meyer's vampire romance series. However, after many nights trying to explain the finer points of the series to my fellow copy editors--such as the fact that Jacob is actually a shapeshifter and not a werewolf, and how Edward and other vamps can actually go in the sun without dying (although, I might die of embarrassment if I glittered in the sunlight, too--just kidding!)--I have decided it's about high time I embraced this particular role in the newsroom and brought copy desk discussions on the pop culture phenomenon that is "Twilight" to the public. Because, let's face it: Twilight surely isn't going anywhere any time soon.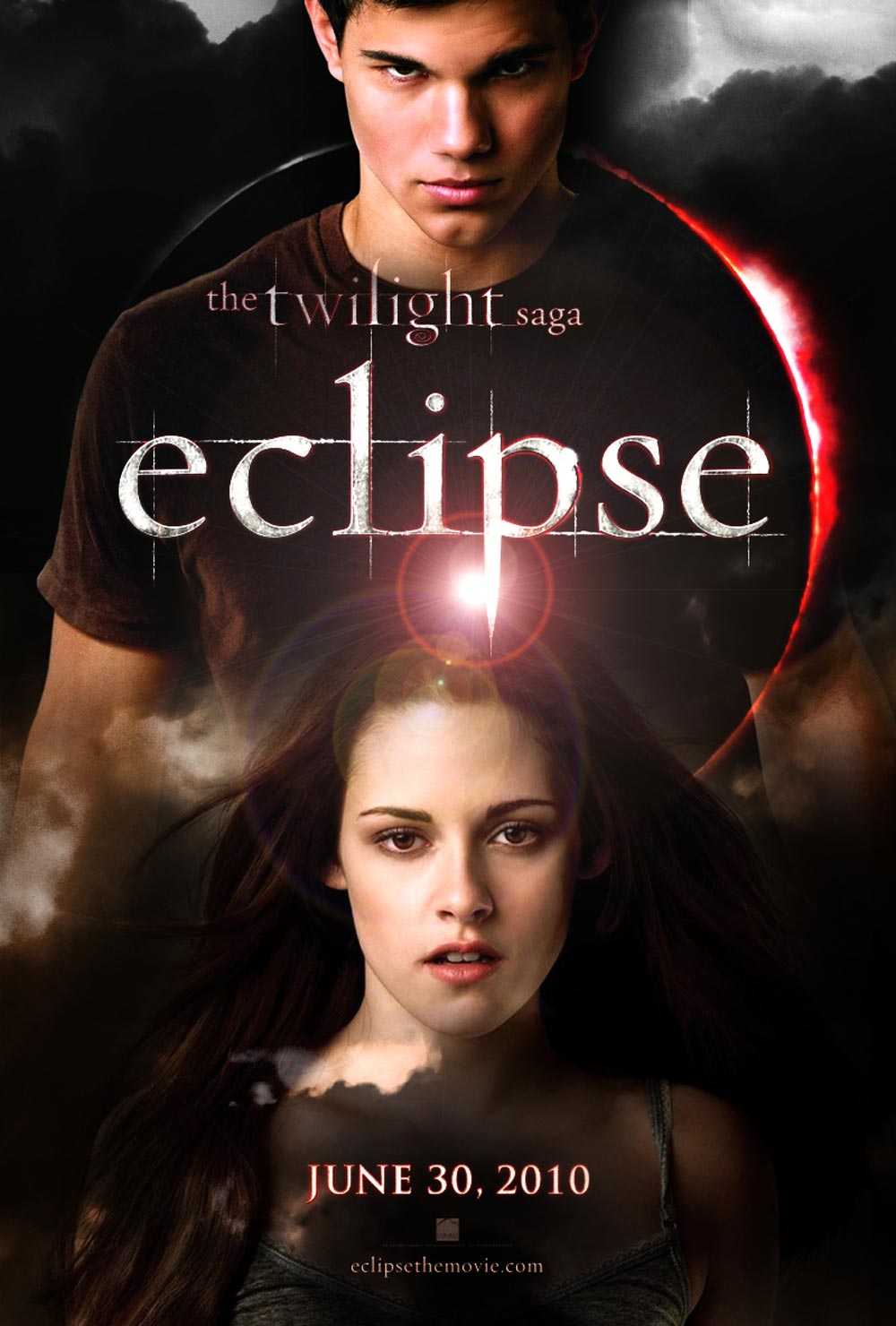 The current news is that the latest movie in the series, "The Twilight Saga: Eclipse," released last Wednesday, has taken quite a bite out of the box office. "Eclipse" has taken in $161.7 million since opening and was expected to gross around $175 million for the six-day holiday total, according to Associated Press reports. That is a very large debut, only recently surpassed by a few films, including "The Dark Knight" and last summer's sequel to "Transformers," also according to the AP.
That's a pretty big deal, folks. It seems like all those self-professed "Twi-moms" and their teen daughters have come out in droves to stare longingly at the shirtless abdominals of the way-too-young-to-be-so-hot Taylor Lautner. Oh, and maybe they also want to see how the love triangle between Jacob Black (Lautner), Edward Cullen (Robert Pattinson) and Bella Swan (Kristen Stewart) will play out.
Disclaimer: I haven't actually seen "Eclipse" but Entertainment Editor Mark Mezsoros reviewed it here. Check that out for more on the film.
In any event, girls all over and of all ages are going absolutely gaga for this saga. The question on all of our minds is: Why?
Twilight is everywhere I go these days. People (read: girls) are either drooling over the male stars, or dreaming about finding an Edward of their own. On the flip side, I hear a lot of extaordinarily negative comments about the franchise just as often. Either way, Twilight is one of the most talked about stories in pop culture right now. And I have absolutely no idea how it got to be that way.
Now, maybe I'm biased because I grew up with Harry Potter. I still have the 'Platform 9 3/4' sign that adorned the wall of my college dorm room (and apartment... and I still have it at the age of 24--don't judge me). I totally get the craze of following your favorite fiction characters as they take life on the silver screen. So I get the basics of the movement. I just don't understand why now, why Twilight.
At it's core, the series is a drippy teen romance. And sure, the books were entertaining enough if you like completely shallow, meaningless literature with too-perfect characters and a heroine who, I believe, is the exact opposite of a good role model for teen girls with her total dependence on Edward and her constant need to always be rescued. Add to that some pretty low budget films featuring bored looking actors with caked on white make-up, and Twilight just doesn't do it for me. So... what's the draw?
Apparently I missed something, even after reading all four books and renting the first two movies. And again, maybe I'm just biased after having devoted half of my life to Hogwarts (side note: has anybody seen the trailer for Deathy Hallows?! OHMYGOSH!), but I refuse to accept that Twilight is the next Harry Potter. So if somebody could please fill me in on how and why, exactly, Twilight got to be this big, I'd appreciate it.
-Danielle Capriato
DCapriato@News-Herald.com
Labels: eclipse, harry potter, twilight